Lawn Installation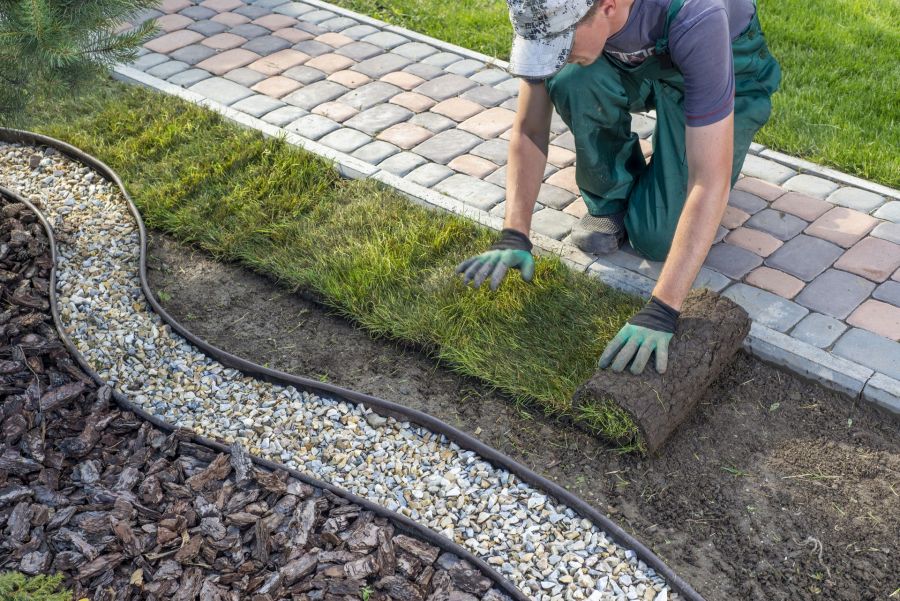 If you're still under the impression that a great-looking yard takes a lot of time to establish, you'll be delighted to find out more about sod installation. Sod is grown in nurseries under the watchful eye of expert gardeners. After it reaches maturity, it's cut into pieces and laid down to produce lawns that are absolutely stunning from day one. J Landscaping has been delivering lush, green lawns to home and business property owners since 2015. If you're tired of waiting for seeds to sprout during your lawn restoration project, give us a call for a free lawn installation quote.
---
Call for a FREE Quote
---
Benefits of the Instant Lawn
Instant gratification is the most compelling reason why home and commercial property owners choose lawn installation services versus growing grass from seeds. Depending on the size of the project, you can be enjoying your new lawn in just a day or two after lawn care contractors show up at your worksite. Since sod is nursery-grown, it doesn't have weeds. Your picture-perfect lawn is ready for backyard barbeques, house guests, or potential real estate buyers.
The Surprising Cost Savings of Lawn Installation
After considering the benefits of lawn installation, you're likely wondering about the cost of the service in comparison with seeded yards. In addition to taking longer to establish, seeded lawns need a lot of gardening supplies, attention, and patience to look great. You'll need to prepare your soil for long-term success by aerating and nourishing it with proper amounts of fertilizers. The costs for seeds and weed killers also must be considered. J Landscaping has been installing lawns for 8 years. When you employ our services, you don't need to buy a bunch of garden products to get and maintain a great looking yard. You may find that installing sod is more cost-effective in the long run than establishing a lawn from seed. Call us at (781) 691-4777 to learn more about our services.
Get Better, Faster Results With Professional Lawn Installation
While you can purchase sod from your local nursery and install it yourself, you're likely to get the best results from a professional lawn installation. J Landscaping prepares your soil for sod by clearing the lawn of old grassroots and debris. We till, grade, and fertilize the area as needed. Our expert technicians lay down sod strips with precision. The result is an instant lawn that looks great fast. All you need to do is water the area according to our instructions. Ready for a fantastic-looking, low-maintenance lawn? Call us today at (781) 691-4777 to get started.
---
Call for Fast FREE Quote
---