Leaf Removal
Fall Cleanup - Spring Cleanup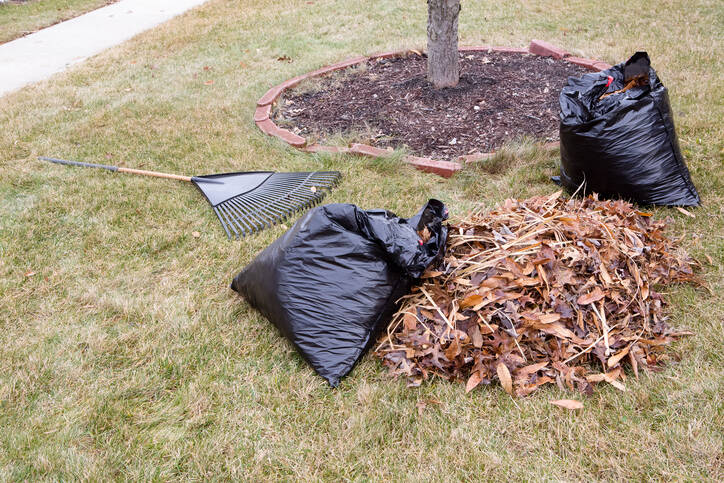 Leaves provide colorful beauty to the landscaping, but once they start to fall, they create a task for you handle. Leaf removal is a necessity to keep your yard looking its best, but sometimes you just don't have time to clean up Mother Nature's changes. But instead of allowing your yard to become a leaf refuse, consider hiring J Landscaping to tackle the job for you. With 8 years of experience, our team can provide the spring and fall clean up services you need to keep your home looking its best.
---
Call for a FREE Quote
---
Why Leaf Removal Is Important
There are homeowners who diligently work to clean up their leaves and there are those who let the leaves sit. However, laziness aside, leaf removal is actually quite important.
Eyesore: If you have leaves building up in your yard, eventually they will become an eyesore. The leaves will eventually die, and you'll have brown and crusty leaves making their way into flower pots and bushes and just creating an aesthetic nightmare.
Buildup Hazard: When leaves pile up and don't get cleaned, they can create hazards. For instance, leaf buildup near a drain can clog the drain and create a flood that seeps into your home. Leaf buildup near dryer vents can clog the vents and create dangerous carbon monoxide buildup in your home. With these serious risks, it's better to just clean up the leaves.
Why Choose J Landscaping?
There are a variety of lawn care service providers in the area, so why exactly should you put your trust in J Landscaping over the others?
Pricing: Our team delivers easy-to-follow pricing so you're always aware of the cost and there are no surprises. No matter if you just want leaf removal or you're interested in a full lawn care package, you'll like the transparency and affordability of our prices.
Experience: Not every lawn care company can say they've been in business since 2015, but we can. Every member of our team offers years of experience that ensure you get the professional service you need when you need it.
Services: Our team is experts at lawn care services, which means we can do everything from leaf removal to lawn maintenance. Don't hire a variety of companies to do what we can do and instead just put your trust in us.
Communication: Our team works with you to determine exactly what you want for your lawn and we'll openly communicate with you to ensure you're always in the know about anything we find or any suggestions we may have for your lawn.
Contact J Landscaping Today
Having an attractive lawn means putting your trust in J Landscaping. When you're ready to stand out with the best looking yard on the block, contact us today at (781) 691-4777.
---
Call for Fast FREE Quote
---